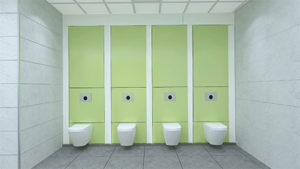 Ideal Kabin offers your durable and Professional solution with IPS Wall cladding.
IPS(Integrated Plumbing Systems) creates a new aesthetic wall to conceal unsightly pipework and cisterns at the rear of a toilet cubicle or urinal with easy access for service and maintenance. IPS system is an economical, easy solutions to repair  the plumbing pipework and provides a more attractive toilet solution.
Usage of Compact Laminate for IPS Wall Cladding
Compact Laminate which guarantees long –term use is widely applied in IPS wall cladding due to its hygienic structure and easy to clean, resistant to moisture, heat and water.
IPS is suitable for any designs that will adapt to the width and height needed in the desired size. IPS Systems offer production flexibility according to the sanitary ware products specially measured and selected for each toilet area. It offers aesthetic options with its wide range of colors whether for a back wall of toilet or a full height  duct panel set.